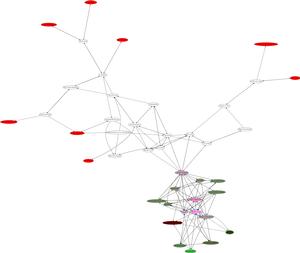 Results
As a result of signatures from these keysinging parties, I can now trace signature paths between us and a number of famous people using sigtrace, and I've graphed them using sig2dot.

Example output from sigtrace:

$ cat mysigs.5.sigs | ./sigtrace.pl FAEBD5FC 0E9FF879 mysigs.5
Data loaded, tracing....
level:0 keys:1
level:1 keys:17
level:2 keys:112
level:3 keys:136
level:4 keys:1
4 hop path: FAEBD5FC 51DBA39C 9E22EA50 80675E65 0E9FF879
pub  1024D/FAEBD5FC 1997-04-07 Philip R. Zimmermann <prz@pgp.com>
pub  1024D/51DBA39C 1997-05-21 Noah Dibner Salzman <noah@pgp.com>
pub  1024D/9E22EA50 1997-06-07 tim holmes <shortstop@apple.com>
pub  1024D/80675E65 1997-07-30 Leonard D. Rosenthol <leonardr@lazerware.com>
pub  1024D/0E9FF879 2000-09-05 Darxus <Darxus@ChaosReigns.com>
Checked 267 keys.

This graph shows paths connecting us to the following:
---
If you believe any of the information on this site to be inaccurate, please email Darxus@ChaosReigns.com.
---
PLUG Keyring Index Return to PLUG Index.
Fri Apr 19 23:56:55 EDT 2002
Valid HTML 3.2 & 4.0.
Darxus@ChaosReigns.com